JUST  IN TIME FOR THE HOLIDAYS…
GIANT BATMOBILE! This classic Batmobile from the original Batman TV series is the first to fit most Batman 6″ figures.  A must have for any collector!.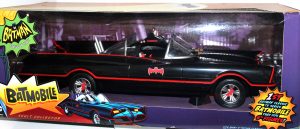 Box measures approximately 8″ deep by 20″ wide by 8″ tall. It weighs approximately 5 pounds without shipping materials. Packaging will be added to protect product prior to shipping and will be shipped USPS ground. Please call the store to order and allow at least two weeks for arrival. 772-878-9229.